Amar'e Stoudemire: A Closer Look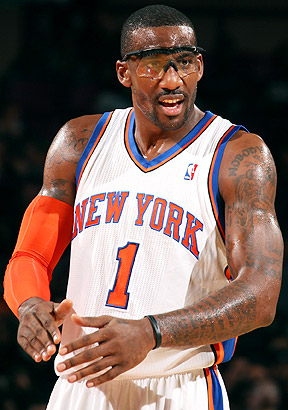 (Big C) It's  a new season but things have not turned out the way Amar'e Stoudemire had planned.  The face of the Knicks and the guy who turned the Knicks around does not look like the same player from last season. Stoudemire is not scoring at will and he does not have the same fire in his eyes like last season.   Fans and critics are wondering what's going on or trying to figure out what happened to Amar'e.  It may be 27 games into the season for Amar'e but there is reason for concern.  Amar'e has gone from a 25 point (50%) game player to a guy that is now averaging 18 points a game shooting 44%.
Here are some factors that I feel are the reasons to Amar'e Stoudemire drop in  production:
 1. Rust - With the Knicks having a long lockout and a short training camp I think it is taking Amar'e longer to get his game back. Especially since he has been in and out of the lineup and never really built chemistry with his teammates. Amar'e's shot and timing are off.  Not to mention Amar'e has missed games due to injuries and the loss of his brother.
 2.  Weight Gain - Coming into this season Amar'e Stoudemire was said to be working on his dribble and his game. However, Amar'e has gained weight. Last season Amar'e Stoudemire weighed 240 pounds and this season he weighs 260 pounds.  In a sport like basketball being faster than your opponent can give you an edge.  20 more pounds can also be the difference between dunking over another player or getting blocked when you attempt to go up strong. 20 pounds could be the difference between blowing by your man or your man staying with you for a stop. Weight gain can stop a player's offensive game in the halfcourt or on the break. Extra weight would only help Amar'e if he had a post up game but that's just not his style of game play.
3. Playing the Power Forward Again- Last season Amar'e was asked to play center where he dominated as an offensive force.  This season Stoudemire moved back to the power forward position when Chandler arrived.  We all know Stoudemire is a natural power forward, he's played the power forward position his entire career except last season. However, moving back to the power forward position is one of the main reasons why Amar'e looks like he has lost a step. Last season Amar'e was dunking and taking his man off the dribble with centers guarding him. This season he is re-adjusting to playing the power forward position. Even though centers in the NBA are stronger and block more shots they are also slower than your typical NBA power forward. So last season Amar'e had no problem getting by his man for the easy basket. Now when Amar'e tries to take his man off the dribble, the forward guarding him is staying with him. Power forwards are simply better at keeping up with Amar'e than most centers.  They are also athletic enough to say with Amar'e when he jumps.
4.   No pick and roll: - This season Amar'e Stoudemire has to rely on creating his own shot more than ever.  Amar'e Stoudemire is one of the best pick and roll players in the NBA.  Oddly enough the Knicks have not used the pick and roll with Amar'e in the lineup.  You can expect a dip in Amar'e's scoring based solely on this point. Not to mention he is not getting the same number of shot attempts.  
What's the solution?
The solution for the Knicks is to run more pick and roll plays involving Amar'e.   The pick and roll going with Lin should make Stoudemire's life easier in the scoring department.  The Knicks should also set more screens for Amar'e using Chandler so Amar'e can have more opportunities to cut to the basket or shoot the midrange shot.
Overall, Amar'e is a big part of the Knicks winning.  The Knicks now have to find a way
to mix it up with Amar'e and his teammates to get a balance in scoring.
Follow me on twitter   twitter.com/fromthebaseline.com